Ford Electric and Hybrid Vehicle Lineup in Wayland, MI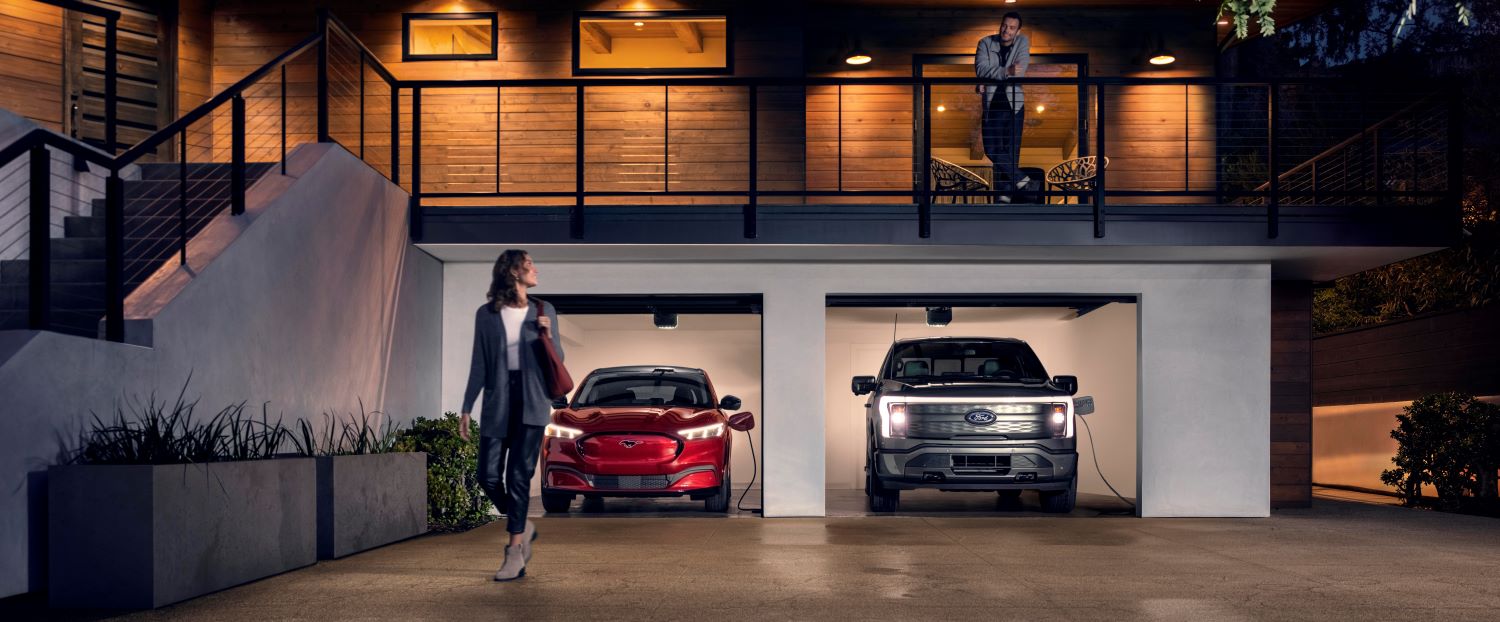 Explore Ford Electric & Hybrid Vehicles at Ed Koehn Ford of Wayland
The future is electric, and few brands embrace this change like Ford. With a plethora of electric and hybrid models currently available or coming soon to our Wayland dealership, Ford fans already have plenty of options to browse. Find the electric or hybrid Ford that speaks to you at Ed Koehn Ford of Wayland today.
The Benefits of Driving Electric
If you are still on the fence about whether or not to buy an electric vehicle, here is a list of benefits that may sway your mind. For starters, electric vehicles require fewer trips to the gas station and consequently allow you to save on gas. While it is true that you still need to charge your electric or hybrid vehicle at a charging station, you can also set up a charging station at your home. On top of this, electric and hybrid vehicles require less maintenance than full gas-powered vehicles do. This means you can spend less on service and repair and keep your peace of mind more easily. Many states also offer incentives for purchasing or leasing new electric vehicles, such as rebates or discounts.
The Ford Electric & Hybrid Lineup: Available to Order Soon
If you do not see some of the models listed below in our current new Ford inventory, please be aware that they are on their way. These vehicles will be available to order soon near Caledonia, MI, so we ask that you remain patient in the meantime. However, listed below are the highlighted electric and hybrid Ford lineup models.
2022 Mustang Mach-E
The 2022 Ford Mustang Mach-E is a great new electric SUV from the ever-popular brand. As an all-electric SUV, you can expect it to provide all the benefits of an electric vehicle. Plus, it offers one of the most enjoyable rides out there. Find a poised ride, quick acceleration, plenty of power, an upscale interior, and a long driving range.
2022 Escape Hybrid & Escape Plug-In Hybrid
The 2022 Ford Escape Hybrid is a great choice for those interested in bringing home a hybrid SUV to their Hastings home. Its peppy powertrain, composed ride, roomy seating, and easy-to-use infotainment system make it great for any family.
The 2022 Ford Escape Plug-in Hybrid is similar to its Escape Hybrid sibling in many ways. However, it offers more space due to its ability to store the battery underneath the vehicle. On top of this, you can expect to find a Level 2 AC charging port.
2022 F-150 Lightning
The 2022 Ford F-150 Lightning offers drivers everything that is great about the popular pickup and blends all of it with the benefits of an electric truck. Built with versatility in mind, the Lightning is ready to become the best tool you have.
2022 Maverick
The 2022 Ford Maverick is the first standard hybrid truck in America. But that's not all it offers. With unique maneuverability and great utility, the Maverick is perfect for navigating tight city streets and hauling your band equipment. Whatever you need it to do, the Maverick is up for the challenge.
2022 E-Transit
The 2022 Ford E-Transit brings everything you love about Ford vans and combines it with the power of an electric motor. Whether you run a small business or need a van with plenty of space and utility, this is the vehicle for you.
Bring Home a Ford Electric or Hybrid Vehicle From Ed Koehn Ford of Wayland

When the above models become available in our inventory, we suggest scheduling a test drive. You can set up an appointment online for a time that fits your busy schedule around Byron Center, MI. And if you have any questions, or are ready to custom order your next electric or hybrid Ford feel free to reach out to us at any time.
How can we help?
* Indicates a required field