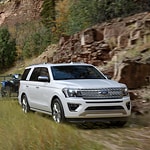 The new Expedition is turning heads with its long lineup of trims and enhanced performance features. For a large-size SUV, the Expedition is quick, agile, and reliable with a twin-turbocharged V6 engine that delivers on initial horsepower output. The base Expedition, as well as the XL, XLT, and Limited versions, all come with 375 horsepower output, as well as rear-wheel drive.
The Platinum version is the top-tier trim in the lineup. This version comes with a 400-horsepower output and 480 lb-ft of torque. The Expedition comes with a 9300 towing capacity, though the XLT Max has up to 9000 lbs of towing capacity. For Wayland drivers, the best part of this SUV is the comfortable driving experience and acceleration. You can feel the power in every trim of this SUV.
If you're looking for powerful steering, precise handling, and a smooth driving experience, the Expedition is the best choice for you to test drive at Ed Koehn Ford of Wayland. You'll be able to see just how powerful the new Expedition is after a quick test drive to see all of the latest performance features.