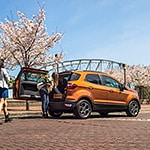 Agility and dynamic driving are advantages of small SUVs. The Ford EcoSport incorporates these qualities as some of its key features for the benefit of customers. Equipped with a variety of amenities that help it go wherever it is called upon to travel, the Ford EcoSport is an example of a subcompact SUV we simply cannot get enough of.
The Ford EcoSport manages to balance refined driving with immense capability under the hood. An option between a turbocharged three-cylinder or a straight four-cylinder engine provides buyers with two selective choices that govern this model's powertrain capabilities. Despite its small stature, the Ford EcoSport can even haul up to 2,000 pounds, which is a nice surprise.
Adding to the impressive reputation of the Ford EcoSport, Intelligent 4WD is also an available option. Allow drivers to veer off the beaten path, this functionality allows the EcoSport to take on any type of terrain with ease. When paired with hill start assist, this feature rounds out the capability potential of the Ford EcoSport.