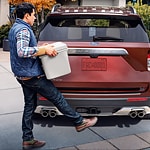 The Ford Explorer is one of the largest SUV models that Ford has to offer to the automotive market. The size and design of the Ford Explorer allows it to be a comfortable model that can store a large quantity of items. The 2021 Ford Explorer carries on the same large style as the previous model years and includes several new features.
Interior Design
The interior of the 2021 Ford Explorer is large, spacious, and offers seating for up to seven occupants. Three-row seating is standard in each of the 2021 Explorer models. The interior design of the new Ford Explorer is simple and includes many great infotainment features.
Exterior Design
The exterior of the 2021 Ford Explorer is large and classy. The Explorer's five-door design allows its occupants to easily load passengers and cargo into the SUV. Most of the new Explorer models are lined with chrome trim pieces but there are Explorers with black exterior trims.