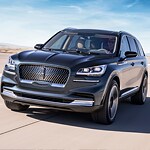 Are you in the market for a luxury mid-size SUV in Wayland? If so, the Lincoln Aviator is a luxury mid-size SUV that was crafted with a variety of features, which include two engine options, an advanced suspension system, and all-wheel drive or rear-wheel drive.
With Lincoln Drive Modes, all you have to do is turn a knob in the center-front console to adjust the shift points, suspension, and more. You can even get the available Air Glide Suspension that can automatically adjusts ride height for enhanced responsiveness. With the Grand Touring model, Lincoln Drive Modes is equipped with two additional modes that include Preserve EV and Pure EV.
The Aviator offers impressive power with its standard twin-turbocharged 3.0L V6 engine that gets 415 pound-feet of torque and 400 horsepower. If you want to optimize efficiency, the Aviator Grand Touring is powered by an electric motor and 3.0L twin-turbocharged engine that produce 630 pound-feet of torque and 494 horsepower.