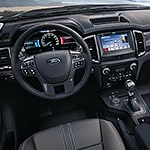 The new Ford Ranger exhibits one of the most beloved tech platforms in the truck world. Here at Ed Koehn Ford of Wayland, the Ranger is often only thought of as a tough off-road truck, but in reality, it's very nice on the interior and has serious bragging rights over its tech competitors. Customers in Wayland have already singled out the Ranger for its technology features.
The modern Ranger doesn't just go out into the wild and conquer it. It makes the ride fun along the way, too. A B & O sound system has strategically placed premium speakers all around the cabin. The booming bass and kicking treble create one of the most impressive musical experiences in the mid-size class.
Even more impressive is the advancements on this year's SYNC 3 infotainment system. You'll appreciate the handy tools offered by smartphone integration, easy to follow app menus, and a picture that's full of colors that pop alive for Wayland truck owners.