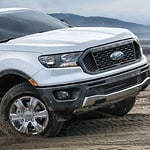 The Ford Ranger has long been one of the most popular trucks on the market today. With next-level design features that are expected from Ford, it comes packed with features that are sure to impress.
The design of the Ford Ranger is apparent from first glance of the exterior. With the twin power dome hood and windshield that is made with a low angle, the Ranger is able to maximize its aerodynamics. This allows the truck to not only travel efficiently, but also quietly. These aerodynamic features continue with the wheel wells and wide grille opening. This aerodynamically sound style of the Ranger helps increase fuel efficiency as well.
The Ford Ranger is made for those that are looking for great style and performance. These design features were made to improve the functionality of the vehicle while also making it extremely stylish. Come to Ed Koehn Ford of Wayland and experience that style today.